2017-18 PTO Schoolwide Volunteer Signups
Whether you are a veteran volunteer, new to Madison or someone who has been waiting to join in – the time is right – you are wanted and welcome. Please look through the opportunities to share your time and talents and SIGN UP!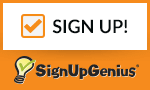 2017-18 Classroom Volunteer Signups
Classroom Signups are managed by the Room Parents in partnership with the classroom teachers.  Your room parent will email a Signup Genius link to their class list in the Fall .  Signups to be Room Parents will begin in August after class assignments are known.  Please consider being a Room Parent!  
For 2016-17 remaining signups, please follow the directions below.
Go to Signup Genius Website (www.signupgenius.com)
Scroll to the bottom of the page to locate the Find a Signup Button – click on it
Enter the email address of the room parents for your classroom.  The email address follows this rule:

roomparentsFirstInitialLastname@madisonpto.org (roomparentsJEgan@madisonpto.org)
Mrs. Trumbull has 2 emails :  roomparentsJTrumbullam@madisonpto.org and roomparentsJTrumbullpm@madisonpto.org

Enter the Captcha you see
2017-18 MRC Volunteers
Signups for Volunteering to assist Mrs. Mardula in the Library will open in the Fall
Sign Up Now!
If your child has one of the following teachers, use the MORNINGS SignUp Genius button to volunteer when your child is in the MRC:
MORNINGS MRC VOLUNTEERS
Use the AFTERNOONS SignUp Genius Button for the following teachers:
AFTERNOONS MRC VOLUNTEERS
Thanks for supporting the MRC – happy reading!